Independent creative
Coralie designs creative marketing collateral to motivate and move people and is an independent creative working predominantly in the arts and cultural heritage sector through recommendation.
Starting out in the retail sector, Coralie went on to implement corporate identities for international brands before art directing carefully targeted, award-winning campaigns.
After graduating in Graphic Design from De Montfort University, Coralie worked within leading design studios and direct marketing agencies in London and designs for well-established and new-launch organisations including over fifty non-profits in the UK.
Skill set
Art direction for cross-media marketing, logo design, websites from scratch, seo and content management, print handling, packaging, reportage photography, retouching, designer sourcing, visualising, styling and decoration for interiors.
Coralie's portfolio includes extensive print and a wide range of technology skills. In addition, her remote-working, freelance and in-house roles have contributed to excellent project management and scheduling.
Design consultant
Having maintained long-term working relationships with regular clients for many years Coralie also provides customer-facing creative consultancy for a traditional interior specialists in London since 2013.
---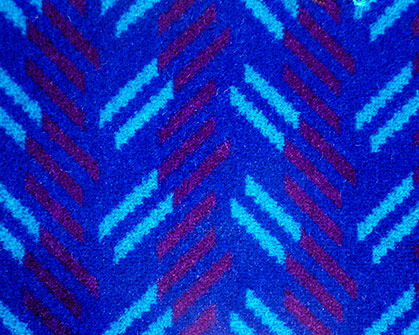 Moquette textile pattern for upholstery designed by Coralie Walker
Following the decision to rebrand the London & South East commuter railway, a new corporate identity included transforming Waterloo station as the flagship terminus to launch the new Network SouthEast name and identity.
Coralie designed:
• A site specific information point beneath the world-famous four-sided clock at Waterloo station
• The moquette textile pattern designed for rail carriage interior upholstery 'Blue Blaze'
Coralie was part of the design team implementing:
• Station signage guidelines across SE England
• Livery design for rolling stock
---
"Thank you for all your hard work in the showroom, the work on the website, social media, all your design work and creative input is greatly appreciated."
Independent retailer
---
SERVICES:

• graphic design
• visuals, schemes and moodboards
• type layout and typography
• artwork (pagination, print and cross-media)
• art direction
• conceptual thinking
• reportage photography
• collections photography
• photo editing and retouching
• print handling
• sourcing and specification
• website design, editing and content management
Coralie designs and builds websites using Squarepace, Wordpress and html and edits code. Examples include: R.S Holt, Cultural Connections