Decorative consultancy
Assimilating your needs and wants with an extensive contacts book of contemporary and traditional suppliers, makers and craftspeople.
"... I so value your help and eye, which took me into a whole new direction …"
This scheme developed from a basic branded room setting into a unique reflection of two personalities moving in to their new home. It thoughtfully reflects their back story, their taste and desires with revived character pieces, beautiful patterns and surprise understated elements.
---
Strategic design
Understanding your unique proposition, your aims, your products and your audiences.
"... the campaign has been an enormous success and replies are flooding in… the invitation to our ball has captured the imagination of so many people …"
This direct marketing campaign included an invitation from Stephen Fry to a glittering ball with a difference, no guests, no event – the appeal was raising funding for a national helpline for Missing People, the format generated a great response.
---
Visual communications
Crafting beautiful communications to reflect your brand. Accessible and empathetic design artworked to reinforce your impact.
"... the entire process from the rather rough idea for an information leaflet through to the final design was easy, quick and straightforward, you always seemed to be one step ahead with suggestions and ideas ..."
This flyer was designed to raise the company profile, generate referrals and for general information, it is also available to download from the company website.
---
Digital engagement
Using social media to add brand value, build relationships and market your campaign.
"... this is a great addition, you have caught a fabulous transformation ..."
A sixty second video of a furniture restorer at work illustrates the specialist techniques that set a small business apart. These short films enrich the business website, feed social media, engage existing customers and attract new business.
Some examples designed by Coralie Walker.
---
'Powerful, simple, clever and relevant'
This was how Direct Response magazine described an award-winning direct marketing campaign art-directed by Coralie Walker for the National Asthma Campaign (Asthma UK). The mailing was designed to raise awareness of a life-threatening condition and the original pack raised twice the target income with an engaging, cost-effective format using an intriguing involvement device, a straw. The mailing pack remains the charity's 'banker' pack over 20 years later, the original was a team effort between agency and client and it was Coralie who suggested including the straw as an involvement device to experience how it feels to live with asthma. Coralie artworked the original mailing which was hand-stamped in 1991.
The charity's fundraiser said 'this pack achieved considerable notoriety and was widely copied by other organisations trying to develop their own equivalent version' read the full SOFII case study here.
A campaign planner at Pell & Bales handed out the involvement device at an industry event IWITOT 2014 and said 'I Wish I Had Thought Of That' watch the footage here. The premise continues as the #strawfie challenge.
---
From fundraising to fundraisers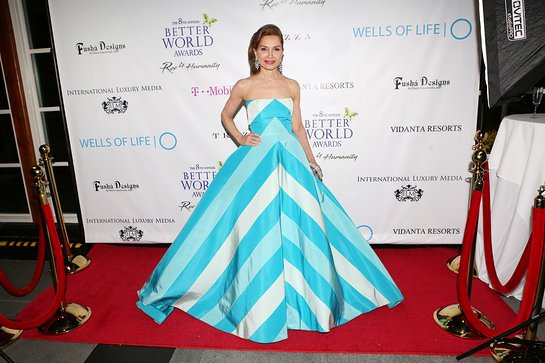 The redesigned logo for The Annual Better World Awards designed by Coralie Walker was shown behind guests on the red carpet at the Roc4Humanity-themed event, a benefit for Wells for Life at The Loeb Boathouse, New York in 2018. Photo reproduced with permission © Krista Kennell/Patrick McMullan
---
'Coralie understands both sides'
Coralie was able to respond very quickly to the brief of building a new website. Her creative input was invaluable because she understands the needs of both the author and the audience. Coralie had a thoughtful and considered approach to all the content and examples of work I put forward, which shows in the final design.
From the moment photomerchant.co.uk went live I was able to direct clients old and new to the site, the reaction and praise has been universally positive. As a digital marketing tool Coralie managed the seo allowing me and my services to be found quickly and it immediately generated work for ongoing contracts.
---
Coralie's online exhibition
---